AAPC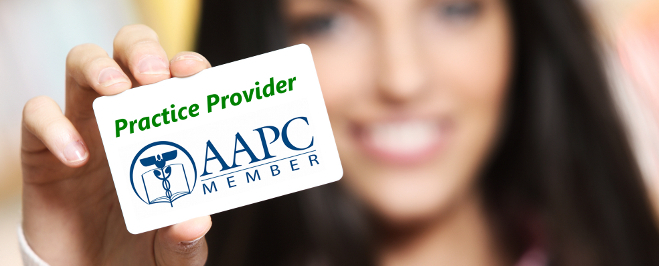 As members of the AAPC, Practice Provider acts according to the highest standards and visions of the AAPC, their profession and conscience.
AAPC is the nation's largest association of medical coders, billers, auditors, regulatory compliance experts, and physician practice management with more than 126,000 members. Practice Provider is proud to be a certified member representing the highest of industry standards. These standards are recognized by physicians and clinical professionals across the country for their expertise in administering the business side of medicine.
AAPC was founded in 1988 to provide education and professional certification to physician-based medical coders and to elevate the standards of medical coding by providing student training, certification, ongoing education, networking, and job opportunities. And has expanded beyond coding to include training and credentials in documentation and coding audits, regulatory compliance, and physician practice management.
Practice Provider has access to the AAPC staff and the National Advisory Board (NAB) work for their interest.
As an AAPC credentialed coder, Practice Provider has proven mastery of all code sets, evaluation and management principles, and documentation guidelines. CPC's and other AAPC credentialed coders represent the best in outpatient coding.
AAPC certifications encompass the entire business side of provider care, with physician coding (CPC™), medical auditing (CPMA™), and practice management (CPPM™). These certifications demonstrate that Practice Provider has strong hands on, working knowledge to support cleaner claim submission, faster reimbursement, fewer denials, and better run practices.

Practice Provider works to constantly increase our level of professional competence, which at a minimum, includes meeting CEU certifications requirements.
Medical Coding Certification (CPC) - Practice Provider has d

emonstrated knowledge of

medical coding

including the correct application of ICD-10, ICD-9-CM, CPT®, HCPCS Level II and modifier coding assignments with the industry's most recognized credentials.

Medical Auditing Certification (CPMA) -

Validate your experience in chart auditing, knowledge of documentation and coding guidelines, and ability to communicate the results of your finding and analyze risk.

Physician Practice Manager Certification (CPPM) - Practice Provider has p

roven skills and expertise as a

certified practice manager

of a modern physician's office. Certify knowledge in managing revenue cycle, compliance regulations, human resources, health information, and general business processes.

Certified Risk Coder Certification (CRC) Practice Provider have credentialed staff members who are Certified Risk Adjustment Coders. This certification allows for chart analysis and assigning the correct diagnosis (ICD-10-CM) codes for a wide variety of clinical cases and services for risk adjustment models.